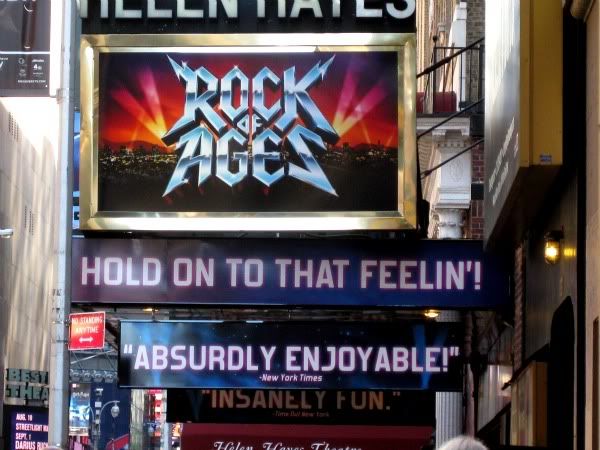 So as promised last night here is an account of the Broadway play "
Rock Of Ages
"! First off, I'm still beyond stoked that I have now, actually seen a Broadway play! It's been a dream of mine, forever, and I think this was a great way to start off. The show was really something. As was the theatre, it was beautiful!
"Rock Of Ages" celebrates the late 80's on the Sunset Strip, and features tunes by Poison, Journey,
Whitesnake
, just to name a few. It really is just one big party, which you realize when you walk in and they give you little fake lighters to use during the show! It's a little story about a boy named Drew who goes to Hollywood to be a rock star and ends up in a pretty shady, yet fun bar. And a girl named Sherrie, who came into town to become an actress, and how their
pursuit
of fame affects their life. Wow,
ok
that sounded kinda serious, which this play is anything but... no shit!
The cast was amazing! All the characters are so crazy and vibrant, Berkeley students, German business
gurus
, crazy bar owners, strip club
madames
, rock stars that look like drag queens and one very over the top narrator. As well as a fantastic live metal band! This musical also happens to be overly self aware, which totally works! The original Broadway cast starred this guy as Drew...
Do you guys remember Constantine
Maroulis
from "American Idol"?! To tell you the truth, I used to be in love with this man, I even went to the "Idol's" live tour to see him perform! But, he's on the American Tour of "Rock Of Ages" right now, so his swing is now the lead on Broadway, and I was not disappointed in his performance... at all.
Before the show Amanda and I had bought the fancy programs for the show, and they told us where to go after the show was over and that the cast would sign our programs. So, of course, after the show we ran out to meet everybody. Cause no one wants to be lame and not meet a great cast. Everybody was so nice and signed away. We got almost the whole cast to sign. We even got some pictures with Dan
Domenech
who played Drew! He was a real sweetheart, and was totally stoked that we liked the show! Honestly they were one of the sweetest casts I have ever met! Which is saying a lot!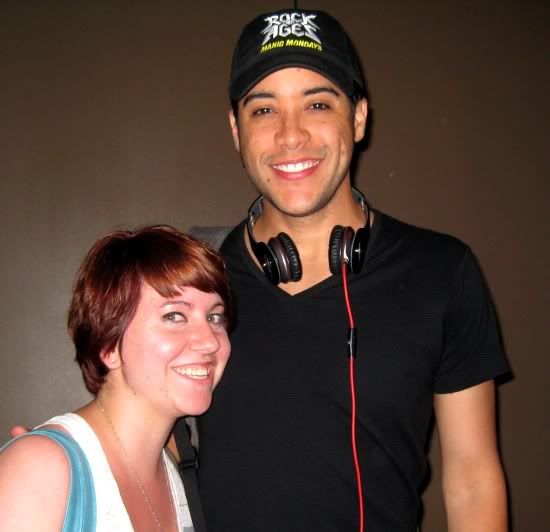 Here's a picture of me and Mr. Lead Man. Isn't he a handsome fella? I mean a totally
bitchin
' rock star!
The night was really the best... No shit (as they say in the show)! If you get a chance to catch the tour or if you are in New York give this show a shot. It's one big party. It's got some really gnarly jokes, and some dirty ones too, but it's not too much, and will be sure to make you gut laugh the whole time!
There's a little snippet from The Tony Awards last year, just so you can get a bodacious taste!